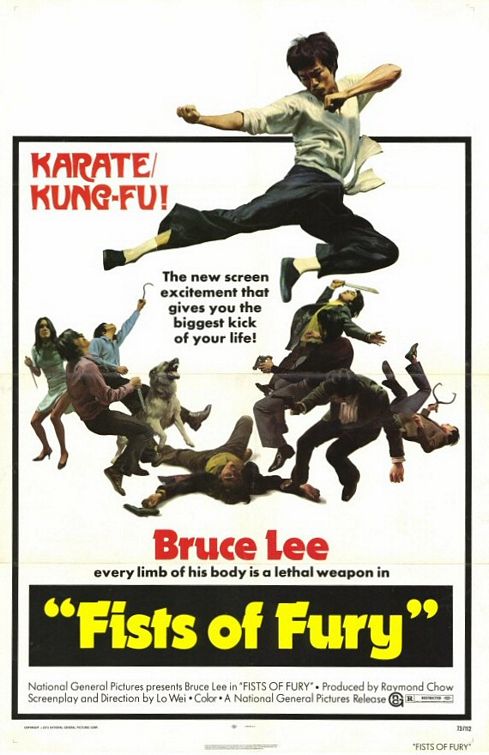 A classic Bruce Lee movie, the plot focuses on a students journey fighting to defend the honour of the Chinese people and bring justice to those who causes his masters death. Unlike those around him, Lees character confronts the racist harassment head on with his incredible mastery of martial arts. The films infamy stems from the nanchaku fight scene, as this was the first time Lee was filmed using his trademark fighting tools.
Along side Bruce Lee are Nora Miao and James Tien, but a little known fact is that Jackie Chan worked as a stunt double for a few characters. Lee's eye for detail, timing and the conviction of the stunt people undertaking the physically demanding fight scenes are testament to the quality of the team Bruce Lee worked with to produce the movies.
The film is set in Shanghai in the early 20th century, where Lee's character witnesses and is subjected to racist taunts and attacks. Bruce Lees incredible martial arts skills are showcased throughout the film,including his weaponry and effortless flying kicks. Although the majority of the film was shot in studios, the staging is fairly convincing with elements of beautiful cinematography through the lighting and detailed elements. Sadly it is let down in a number of scenes with very cheap sets and unfortunate camera angles. The characters are very two dimensional, with wooden dialogue, possibly made worse with the bad dubbing. Dated and jarring music is used to move the audience through the scene and although some of the sound effects might be distracting, the little flaws it does contain should be overlooked for its stunning action fighting.
With the universal theme of relationships between people and the mess misunderstandings can take people, the messages in the film have not tarnished over the 37 years since it was released. For sheer 'kick buttery' this is a must see film.